✯✯✯
In truth my expectations were never going to turn out incredibly high for Hidden Figures because it seemed like a rather safe approach upon a subject whose importance still remains intact with America's history and I got exactly that. In some ways, Theodore Melfi's Hidden Figures just came out to remind me of Tate Taylor's The Help, in the sense that I was getting a feel-good film for American people that would make modern audiences feel better about what direction they've gone since, but in another it was a film whose good intentions went blanketed by stereotypes of the period appearing so bluntly – and it never sits well with me when these conflicting messages come about.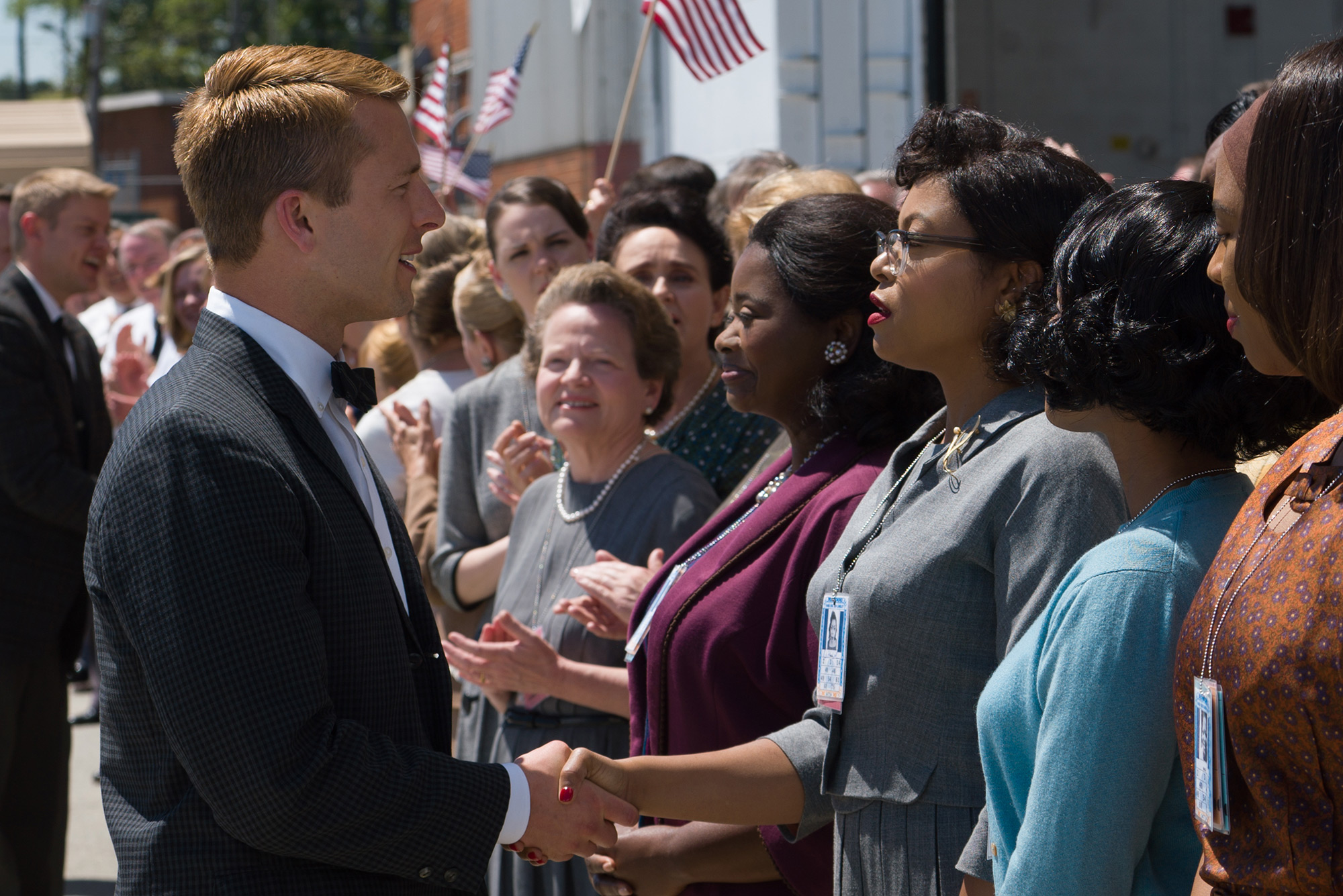 Covering the true story of Katherine G. Johnson, Dorothy Vaughan, and Mary Jackson – three female African-American mathematicians who worked at NASA and vital roles they played in the launching of astronaut John Glenn into orbit, while similarly depicting their struggle. Taraji P. Henson stars as Johnson, Octavia Spencer (arguably the best actress of the bunch) as Vaughan, and Janelle Monáe as Jackson. While it's already admirable to see that attention was given to a story that has gone unnoticed given the importance it plays upon America's past history, it never fully delivers but rather instead it feels like an approach to the topic that plays itself far too much within a realm of safety.
What's undeniable about Hidden Figures is the power of the three leading performances: Taraji P. Henson, Octavia Spencer, and Janelle Monáe. Henson shows no trouble leading the way although at the hands of Octavia Spencer and Janelle Monáe, a greater strength is being exhibited. Octavia Spencer continues to exhibit excellence after another supporting role she played in The Help, but it's clear Janelle Monáe is set to be a rising movie star based off her work in here and in Moonlight. In an ensemble that feels very hit and miss (hits present in Kirsten Dunst and Mahershala Ali and misses coming out from Kevin Costner and Jim Parsons), these three standouts form the heart and soul of the film.
Although the highlight of Hidden Figures is present within the importance of the story that it highlights it also finds itself stinted by many tropes standard of the sort of biopic that it falls under. It's nice to see that the film highlights not only a breaching of a racial barrier but also a gender barrier in terms of achieving a greater significance but the problem therein lies within how Theodore Melfi chooses to handle the topic. In part, it's only a safe depiction of the sort of atmosphere to which the film is set within but simultaneously there seems to be a lack of nuances with how a multitude of white characters have racism within them (something apparent especially within Jim Parsons's character) it never feels nearly as believable as it should. It seems to have a fine environment established but only in part is it ever realized.
Katherine Johnson, being the center of the attention from the three main stars, is allowed moments of her own life on the screen but it's easy to question what relevance they have to the film overall especially when in part we also have a romance she shares together with Jim Johnson as played by Mahershala Ali. It's never anything particularly terrible given the life that Ali and Henson give out on their own part but it's a little bit frustrating when the personal lives of Vaughan and Jackson are allowed on the screen. If there were something else I feared more than anything out of such a biopic, it would be this sort of emphasis given as it's easy enough to question if it really means much to the actual story being put within the center of our own eyes.
Hidden Figures was in part what I expected it would be, a feel-good film about progression through history that plays everything by the numbers but it's never anything unbearable. Without the leading performances of Henson, Spencer, and Monáe, this film easily would not have carried any power to it at all – but knowing what more it could reach, it's still disappointing. The importance behind the story of Hidden Figures especially when you come to consider the sort of barriers for recognition that the actual story broke not only for race but for gender comes out rather hampered by how tame most of it feels. There's a whole lot worse that could have come about, but Hidden Figures feels much more competent to an extent and more confident, making it more bearable than said lot.
---
Watch the trailer right here.
All images via Fox.
---
Directed by Theodore Melfi
Screenplay by Theodore Melfi, Allison Shroeder, from the book by Margot Lee Shetterley
Produced by Peter Chernin, Donna Gigliotti, Theodore Melfi, Jenno Topping, Pharrell Williams
Starring Taraji P. Henson, Octavia Spencer, Janelle Monáe, Kevin Costner, Kirsten Dunst, Jim Parsons, Mahershala Ali
Release Year: 2016
Running Time: 127 minutes